World Breastfeeding Week 2009 • 1-7 August 2009
---
WBW around the World
CARE's World Breastfeeding Week
Activities 2009
Breastfeeding: A Vital Emergency Response.
Are you ready?
For this year's World Breastfeeding Week, the Window of Opportunity program at CARE joined partners around the globe to highlight the critical role of breastfeeding before and during emergencies worldwide.
Click here for full story.
---
World Beastfeeding Week 2008 in Peru

---
Mother's International Lactation Campaign (M.I.L.C.) Virtual Nurse-in
For the normalisation, protection and promotion of breastfeeding
Host: Hey Facebook, breastfeeding is not obscene!
(Official petition to Facebook)
Type: Causes - Protest
Network: Global
Start Time: Saturday, August 1, 2009 at 12:00am
End Time: Friday, August 7, 2009 at 6:00pm
Location: Your Facebook Profile
Description
The Mother's International Lactation Campaign (M.I.L.C.) is a non-profit organisation dedicated to the normalisation, protection and promotion of breastfeeding.
In 2008 and 2009 via the Facebook group "Hey Facebook, Breastfeeding is not Obscene!(official Petition to Facebook)" The organisation hosted two nurse-in events on the popular social networking site. Facebook continues to remove depictions of breastfeeding from their site, demeaning women and encouraging the misconception that breastfeeding is in any way a lewd, sexually explicit or offensive act and is inappropriate content for their site. Facebook has issued several public statements in response to the petition group, claiming to support breastfeeding but removing some images out of "concern for the safety of the many young users of the site."
The virtual nurse-ins received extensive media coverage all around the world and membership in the petition group has surpased 240 000. On one designated day, participants simply posted as their profile picture the image of a nursing mother and changed their status line to: Hey Facebook, breastfeeding is not obscene. Individuals used a very diverse and representative range of images for the event including personal photographs, historic works of art and international symbols.
August 1-7, 2009 is World Breastfeeding Week.
http://worldbreastfeedingweek.org/
Please join us once again in a peaceful demonstration to Facebook to let them know that breastfeeding is not obscene, and women should have the right to share images of it on Facebook. Participants need not be nursing mothers nor even female for that matter, the event does not require you to go anywhere, write anyone or donate a single cent. It all happens on Facebook. Let's tell them that the support and promotion of breastfeeding on global social networking sites is an important step in the cultural normalisation and protection of breastfeeding. Babies have a right to be breastfed, and women should be supported and encouraged to nurse their babies. When society sends the message that breastfeeding is private, awkward, offensive or socially inappropriate, breastfeeding initiation and duration rates are affected. Negatively.
For all or any part of the week of August 1-7, please show your support by changing your Facebook profile picture to one depicting a mother nursing her young. A photograph, a drawing, sculpture, symbol or even a photo of your cat or dog nursing a litter. Really, it is so very simple to participate. Click to attend the event, borrow a picture or post your own and change your status line to Hey Facebook, breastfeeding is not obscene!
That's all there is to it. Show your support. Invite all your contacts to do the same. Thank you:
http://www.facebook.com/groups.php?ref=sb#/group.php?gid=2517126532
http://www.facebook.com/groups.php?ref=sb#/event.php?eid=39521488436
http://www.facebook.com/groups.php?ref=sb#/event.php?eid=74481493344
---
North Georgia Health District in conjunction with the Whitfield, Murray, Fannin, Gilmer, Pickens, and Cherokee County Health Departments celebrates World Breastfeeding Week
Our World Breastfeeding Week event is designed to promote and support breastfeeding families in our community. We will have the North Georgia Health District Emergency Preparedness members available with information for all families on disaster preparedness. A walk is planned around the Ellijay downtown area along with some fun games. Come enjoy a game of "So You Think Your IQ is Higher than a Breastfed Baby?" and more… Click here for full story.
---
Celebrating World Breastfeeding Week in Serbia in 2009

Serbian Parents Network (Udruzenje RODITELJ) was established at the beginning of February 2006 after the initiative of a dozen young parents faced with numerous issues of parenting and upbringing. Some of the first problems that we, as young parents, encountered were closely related to the breastfeeding. Confusing and non-consistent medical professional`s advices and their recommendations of the formula, lack of support for breastfeeding mothers - from the professionals as well as from the nearest surrounding/ relatives and family, lack of the mother-baby friendly facilities, as well as the prejudice related to the breastfeeding in public and extended breastfeeding, are only some of the problems that the young parents in Serbia are constantly coming across. Click here for more info.
We are pleased to share UNICEF Indonesia's plans for WBW 2009 as follows:
---
USAID's Infant & Young Child Nutrition (IYCN) Project celebrates World Breastfeeding Week in several countries
To commemorate World Breastfeeding Week, the IYCN Project will participate in activities to promote good infant feeding practices during the critical time from pregnancy through the first two years of life.. Click here for more info.
---
UNICEF Indonesia's plans for WBW 2009
UNICEF in collaboration with Mercy Corps and the Coalition of Independent Journalists (KOJI) will conduct a training of 20 journalists from electronic and printed media. Click here for more info.
---
World Breastfeeding Week 2009 activities in Paraguay
Every year Paraguay celebrates World Breastfeeding Week (WBW). This year activities are planned and will be carried out by different hospitals and organizations. Click here for more info.
---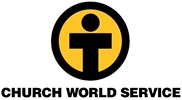 Need for nutrition doesn't stop for emergencies
By Matt Hackworth by Church World Service, Pakistan
SWABI, Northwest Frontier Province, Pakistan - The scorching sounds of intense fighting near her home in the Swat Valley drove Saeeda away so quickly she didn't have time to save many belongings. Click here for more info.
---
World Breastfeeding Week - IYCF Global Strategy in Cameroon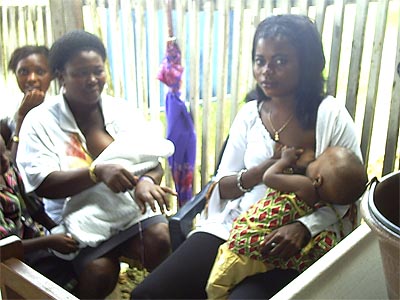 A wide range of resource persons contribute ideas, experiences, technical, material and financial in puts for the success of activities and achievement of IYCF Global Goals. It is for this reason that Cameroon Link action plan touches on varied issues as activities unfold with new strategies applied for greater population out reach each year. Click here for full story.
Breastfeeding Mothers during
Infant Feeding Counselling in Bonaberi-Douala
.
---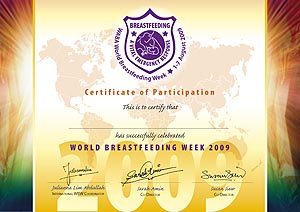 Organise WBW Events and win a personalised special edition WBW 2009 Certificate.
All you have to do is to organise a WBW event and complete the WBW Report Form which is available for download here.

Send the completed report to wbw@waba.org.my and a special edition WBW Certificate will be sent to your organisation. The recipients of the WBW 2009 Certificate will also be listed on the WBW website.
---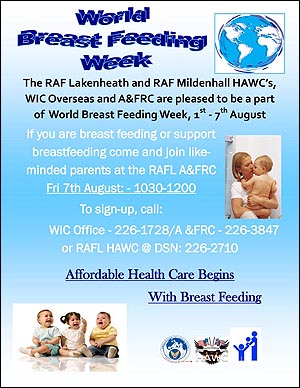 WBW campaign poster from RAF Lakenheath and RAF Mildenhall HAWC'S, WIC Overseas and A&FRC.

.