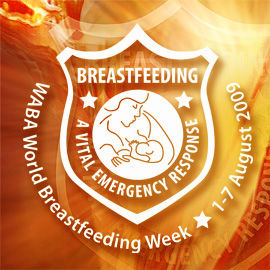 WBW 2009 Virtual Breastfeeding Shield Event Pledge
Fill up the form below and make your pledge today. Click here for more info.
Click here to download form.
---

The World Breastfeeding Week (WBW) is the greatest outreach vehicle for the breastfeeding movement, being celebrated in over 120 countries. Officially it is celebrated from 1-7 August. However, groups may choose other dates to make it a more successful event in their countries.

Sharing your wonderful work will show linkage and solidarity with the global WBW campaign. Send your reports, materials you have produced, photos and we will create a webpage for you which you can use to further promote your WBW activities to wbw@waba.org.my
---
SPONSORSHIP: We do not accept sponsorship of any kind from companies producing breastmilk substitutes, related equipment and complementary foods. We encourage all participants of World Breastfeeding Week to respect and follow this ethical stance.
World Breastfeeding Week 2009 • 1-7 August 2009
---
WBW around the World
UNICEF Indonesia's plans for WBW 2009
1. Training of journalists, 1-2 August 2009
UNICEF in collaboration with Mercy Corps and the Coalition of Independent Journalists (KOJI) will conduct a training of 20 journalists from electronic and printed media with the following objectives:
To raise awareness among journalists about the dangers of infant
formula, baby food and other breastmilk substitutes donations in
emergencies.
To encourage accurate evidence-based reporting on the health and
nutrition situation of women and children in emergencies.
To obtain agreement from journalists and editors to refrain from direct
appeals of infant formula, baby food and other breastmilk substitute,
through their organizations and to mobilise action and nurture
networking and collaboration between those with breastfeeding
counselling skills and those involved in emergency response.
The training includes a simulation exercise with resource persons who have real-life experience in emergencies, including government staff, health staff and mothers. The participants will be expected to produce actual news stories as a result of the exercise. Thus, we anticipate increased media coverage on IFE during the month of August (designated as National Breastfeeding Month in Indonesia) as well as overall increase in media awareness on the issue.
2. Dissemination of an advocacy toolkit, 1-7 August 2009
UNICEF is developing an advocacy toolkit containing all essential references, policy documents and training materials related to IFE. The toolkit is designed to be a practical, user-friendly and compact guide for advocacy and planning on IFE, including a mix of both electronic and printed media. The target audience for the toolkit include key decision-makers and program managers in both government and non-government institutions who are usually involved in emergency response. UNICEF and the Ministry of Women's Empowerment will disseminate the toolkit during the WBW launch workshop in Jakarta, which is tentatively scheduled for the first week of August. Government, UN agencies, international and local NGOs can use the toolkit to conduct further advocacy and trainings on IFE.
UNICEF itself plans to use the toolkit beyond WBW 2009 for ongoing advocacy on IFE, as Indonesia is a disaster-prone country and IFE principles need to be continuously communicated.
Hope you find this information useful. We will share the English version of the toolkit once finalized.
Thanks & regards,
Anna Winoto
Nutrition Specialist
UNICEF Indonesia
Wisma Metropolitan II, 10th Floor
Jl. Sudirman Kav. 31 Jakarta 12920 Indonesia
Tel (+62-21) 5705816 ext 262 Fax (+62-21) 5711326
E-mail: awinoto@unicef.org
Web: www.unicef.org
| WBW Home | WBW around the world | Pledges | Previous WBW Themes | Comments | Contact Us | Back to WABA |




The World Alliance for Breastfeeding Action (WABA) is a global network of individuals and organisations concerned with the protection, promotion and support of breastfeeding worldwide. WABA action is based on the Innocenti Declaration, the Ten Links for Nurturing the Future and the Global Strategy for Infant & Young Child Feeding. Its core partners are IBFAN, LLLI, ILCA, Wellstart International and ABM. Find out more at the WABA.