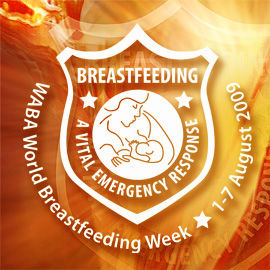 WBW 2009 Virtual Breastfeeding Shield Event Pledge
Fill up the form below and make your pledge today. Click here for more info.
Click here to download form.
---

The World Breastfeeding Week (WBW) is the greatest outreach vehicle for the breastfeeding movement, being celebrated in over 120 countries. Officially it is celebrated from 1-7 August. However, groups may choose other dates to make it a more successful event in their countries.

Sharing your wonderful work will show linkage and solidarity with the global WBW campaign. Send your reports, materials you have produced, photos and we will create a webpage for you which you can use to further promote your WBW activities to wbw@waba.org.my
---
SPONSORSHIP: We do not accept sponsorship of any kind from companies producing breastmilk substitutes, related equipment and complementary foods. We encourage all participants of World Breastfeeding Week to respect and follow this ethical stance.
World Breastfeeding Week 2009 • 1-7 August 2009
---
WBW around the World
World Breastfeeding Week 2009 activities in Paraguay
Every year Paraguay celebrates World Breastfeeding Week (WBW). This year activities are planned and will be carried out by different hospitals and organizations.
1. Hospital Cruz Roja Breastfeeding Committee is organzing:

Breastfeeding talks to mothers at the maternity wards, mothers whose babies are at intensive care unit, mothers and pregnant women who come for their medical care.

Mothers Club at the Pediatric Department. The Mothers Club meets monthly since 2 years ago and is facilitated by La Leche League Leaders and the health staff.

Mothers Club at the Adolescent Department. This club caters to pregnant teens and mothers and was started this year. At the moment it is facilitated by Analy Uriarte of Matrice, La Leche League leaders and the hospital staff.

Breastfeeding training course for hospital residents and new staff.

Launching ceremony with a main topic on Breastfeeding at the Hospital.

Presentation of gifts to young Breastfeeding Artists.
2. Parhupar:

Breastfeeding talks to children at Pelopincho community, Asuncion, throughout July and the WBW.

Art depicting breastfeeding. These drawings by children from 6-10 will be posted at the Hospital Cruz Roja during the WBW week.

Sharing of the importance of the week to the Mother Support Group in Pelopincho.

Breastfeeding talks and mother support group meeting at the Regional Hospital of Salto de Guira, Canindeyu.
3. Hospital Barrio Obrero: The newly formed breastfeeding committee at the hospital is organizing:

Talks to mothers in the waiting room and at the consultation room for pregnant mothers everyday of the week.

Talks to mothers of newborn babies at the Hospital.

Support group for mothers facilitated by student nurses.

Promotional materials like street banners and pamphlets.
4. Ministry of Health:
To distribute WBW pamphlets to the various hospitals.

Pushpa Panadam,
Parhupar and La Leche League Leader
pushpapanadam@yahoo.com
| WBW Home | WBW around the world | Pledges | Previous WBW Themes | Comments | Contact Us | Back to WABA |




The World Alliance for Breastfeeding Action (WABA) is a global network of individuals and organisations concerned with the protection, promotion and support of breastfeeding worldwide. WABA action is based on the Innocenti Declaration, the Ten Links for Nurturing the Future and the Global Strategy for Infant & Young Child Feeding. Its core partners are IBFAN, LLLI, ILCA, Wellstart International and ABM. Find out more at the WABA.