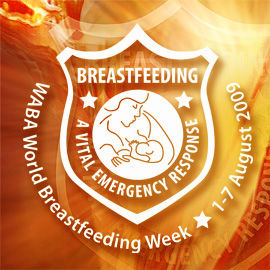 WBW 2009 Virtual Breastfeeding Shield Event Pledge
Fill up the form below and make your pledge today. Click here for more info.
Click here to download form.
---

The World Breastfeeding Week (WBW) is the greatest outreach vehicle for the breastfeeding movement, being celebrated in over 120 countries. Officially it is celebrated from 1-7 August. However, groups may choose other dates to make it a more successful event in their countries.

Sharing your wonderful work will show linkage and solidarity with the global WBW campaign. Send your reports, materials you have produced, photos and we will create a webpage for you which you can use to further promote your WBW activities to wbw@waba.org.my
---
SPONSORSHIP: We do not accept sponsorship of any kind from companies producing breastmilk substitutes, related equipment and complementary foods. We encourage all participants of World Breastfeeding Week to respect and follow this ethical stance.
World Breastfeeding Week 2009 • 1-7 August 2009
---
WBW around the World
USAID's Infant & Young Child Nutrition (IYCN) Project celebrates World Breastfeeding Week in several countries
To commemorate World Breastfeeding Week, the IYCN Project will participate in activities to promote good infant feeding practices during the critical time from pregnancy through the first two years of life.


In Haiti and Lesotho, IYCN will help coordinate outreach events to boost awareness of good infant feeding practices.
In Kenya, IYCN project director Denise Lionetti will participate in a stakeholders' meeting to discuss the status of infant feeding in the country.
In Zambia, the project is working with partners to launch a new media campaign to promote exclusive breastfeeding.

IYCN's team in the field will provide coverage of the week's events. Visit the IYCN website to:



Christine Demmelmaier, MPH
Communications Officer
Infant and Young Child Nutrition Project
PATH
cdemmelmaier@path.org

| WBW Home | WBW around the world | Pledges | Previous WBW Themes | Comments | Contact Us | Back to WABA |




The World Alliance for Breastfeeding Action (WABA) is a global network of individuals and organisations concerned with the protection, promotion and support of breastfeeding worldwide. WABA action is based on the Innocenti Declaration, the Ten Links for Nurturing the Future and the Global Strategy for Infant & Young Child Feeding. Its core partners are IBFAN, LLLI, ILCA, Wellstart International and ABM. Find out more at the WABA.